June 28, 2017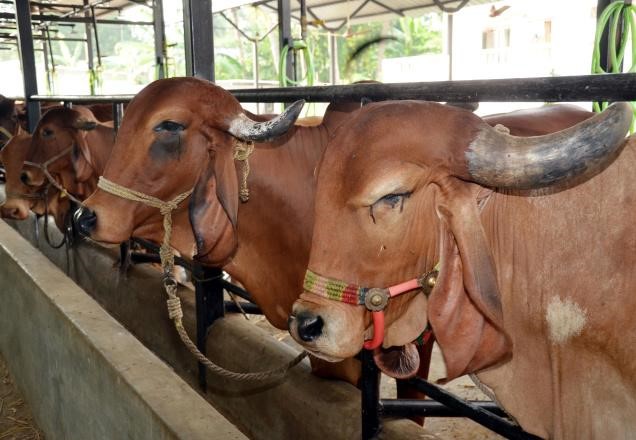 HOUSING:
Avoid water-logging, marshy and heavy rainfall areas
Construct shed on dry, properly raised ground
The cattle shed should be well ventilated
Provide proper shade and cool drinking water in summer
Provide individual bedding daily
Maintain sanitary condition around shed
Control external parasites (ticks, flies etc.)
Drain urine into collection pits and then to the field through irrigation channels
A standing space of 1.2 x 1.5 metre for each animal is needed
SELECTION OF ANIMAL:
Select healthy, high yielding animal
Purchase freshly calved animals in their second/third lactation
Before purchasing ascertain actual milk yield by milking the animal three times con secuctively.
Vaccinate the newly purchased animal against disease
Keep the newly purchased animals under observation for a period of about two weeks and then mix with the general herd
Purchase the second animal after 5-6 months from the purchases of first animal
As buffaloes are seasonal calvers purchase them during July to February
FEEDING OF MILCH ANIMALS
Feed the animals with best feeds and fodders
Give adequate green fodder in the ration
Cut the fodder at the right stage of their growth
Crush the grains and concentrates
Provide adequate vitamins and minerals
Provide adequate and clean water
MILKING OF ANIMALS
Milk the animals two to three times a day
Milk at fixed times
Milk the animal in a clean place
Milking should be done with full hands, quickly and completely followed by stripping
Wash the udder and teat with antiseptic lotions
PROTECTION AGAINST DISEASES
De-worm the animals regularly
Wash the animals from time to time to promote sanitation
Protect the animals against common diseases
Examine the faeces of adult animals to detect egg of internal parasites and treat the  animals with suitable drugs
Conduct periodic tests for brucellosis, tuberculosis, johns disease, mastitis etc
BREEDING CARE:
Observe the animal closely and keep specific record of its coming in heat, duration of heat, insemination, conception and calving
Breed the animals when it is in peck heat period.
The companies involved in the dairy industry presently have come up with various innovative practices and technologies to manage the animals. These companies exhibit their latest technologies and know-hows for the industry in various industrial seminars and exhibitions. To know more about the prevalent practices, the farmers and interested companies should visit such industrial events.
Article Author:
DR.H.A.PATEL ,  DR.R.K.ODEDRA ,  S.R.THAKER , R.P.SOLANKI